The trek to Everest Base Camp Trek is a tea house trek. There is no other place on the planet where you can go trekking like Nepal. Villages dot the landscape, each with its own set of hotels, restaurants, and tea houses (mini-hotels) where you can stop for lunch, buy supplies, and eat apple pie. You do not stay in tents on the EBC Trek. You stay in teahouses with comfortable beds, wood-burning fireplaces, and restaurants. They are a welcome sight after a long day of trekking, and they contribute to the
Trek to Everest Base Camp
How is the trek to Everest Base Camp in Nepal? It's life-changing, exhilarating, and challenging. In this step-by-step EBC trek guide, we cover everything you need to know, from planning to packing for your trip to breaking down each day. So relax and join us on a journey through Nepal's legendary Sagarmatha National Park.
Itinerary for Everest Base Camp Trek
On the map, the distances between villages on the Everest Base Camp trek appear to be relatively short. Eight days appears to be more than enough time to cover a mere 63 km (39 miles) (one way), but with several days above 4000 metres in a row, the walk is slow and steady. To avoid altitude sickness, it is critical not to push too hard. Expect to hike between 7 and 17 kilometres per day.
Since 1976, Sagarmatha National Park has been designated as a UNESCO World Heritage Site. It is one of the most beautiful places we have ever visited, covering 1148 square kilometres (443 square miles). Plan your trek to Everest Base Camp now.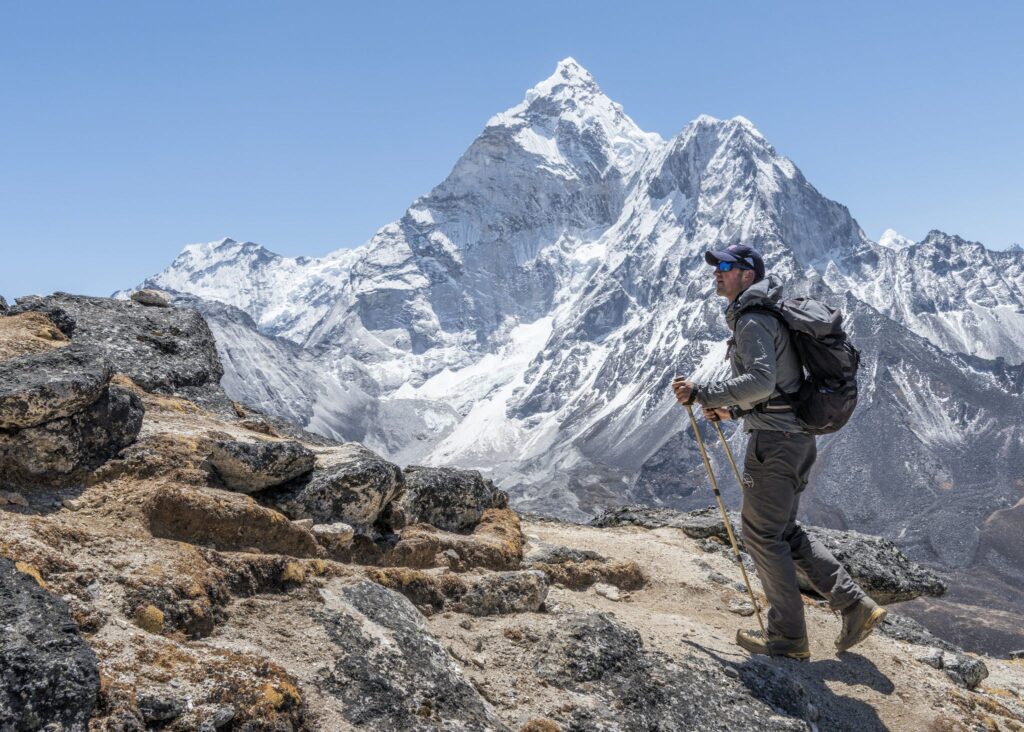 Begin in Kathmandu and fly to Lukla.
Flight from Kathmandu to Everest Base Camp
Our journey began in Kathmandu, Nepal, where we spent a few days gathering all of the necessary equipment and booking a tour with a local company. We chose Simreak Real Nepal, which is owned by Kathmandu resident Dipendra Simkhada.
He organised the entire trip for us, and all we had to do was wait for him to pick us up at our Kathmandu guesthouse and take us to the airport to board our Tara Air flight to Lukla.
See Us Fly to Lukla
At only 525 metres, the Lukla airstrip is a short landing strip (1,729 feet long.) Built on the side of a mountain, it also has a very steep grade that is required to quickly slow the planes down. Needless to say, we held our breath as we touched down.
We made it through that flight, but it was the flight back to Kathmandu that made me nervous. It was nerve-racking to take off on such a short runway. We'd fall thousands of feet into the valley below if we made a mistake. Read about our trip to Lukla and
Getting into Sagarmatha National Park
Sagarmatha National Park trek to Everest Base Camp
Because Everest Base Camp is located in Sagarmatha National Park, a permit is required to hike there. Dipendra took care of everything after we checked in at the national park headquarters. He had everything in order, so all we had to do was start walking.
We were ecstatic as we walked through the welcome gates just outside of Lukla. This was it; we were following in the footsteps of our era's great adventurers. Hiking through the Khumbu region while surrounded by the Himalayas was breathtaking.
Everest Base Camp Accommodation – Tea Houses
We spent the rest of the day following the Dudh Koshi River Valley to the village of Pakding at a steady but leisurely pace. The weather was warm, and the first day of trekking was pleasant. We arrived at our first night on the trek after about 5 hours and spent the night in a comfortable teahouse.
It was a cute little hotel/teahouse that resembled a cottage. The wood-burning stove smelled delicious as it warmed the restaurant while our meals were being prepared. The rooms were spotless, and we slept soundly in our thick down sleeping bags.
India's most popular Treks, Tours & Trips, and Adventure Sports Activities.
Best Treks in India
Laka glacier trek, Friendship peak trek, Bhrigu lake trek, Beas kund trek, Hampta pass trek, Sar pass trek, Kashmir great lakes trek, Everest base camp trek, Rupin pass terk, Roopkund trek, Pangarchulla peak, Valley of flowers trek, Har ki dun trek, Bali Pass Trek, Kasol tosh kheerganga trek, kasol kheerganga trek, Triund trek, kheerganga trek, Triund trek, Chadar trek ladakh, Kuari pass trek, Dayara bugyal trek, Chopta trek, Kedarkantha trek, Brahmatal trek, Kasol trek, Kasol tosh trek, Bali Pass Trek,
Best Tours in India
Ladakh bike trip, Pachmarhi tour, Kedarnath darshan, Jaisalmer desert safari, Desert Camp in Jaisalmer, Kashmir Trip
Adventure Activities
Bird watching in goa, Boat party in goa, Fishing in goa, Snorkeling in goa, Scuba diving in goa, Scuba diving in malvan, scuba diving in goa,
Inbound Tour
Golden Triangle with Pushkar, India golden triangle tour, Golden triangle tour with ranthambore, Golden Triangle with Rajasthan, Golden Triangle Tour with Goa, Rajasthan with Varanasi Tour, Yoga with Golden Triangle Tour, Vedic Spiritual Tours in India,